Wanna' know what's just as much fun as being holed up in my studio writin' and drawin'?
It's packing up all my toys and heading down to our church one Saturday a month and getting to draw at our Gathering!
I've written about this before ... it's a group of ladies who are quilters who bring their sewing machines for a day of sewing, gabbing and eating. And they include lucky me and some others who draw and paint! So much fun!
Then the stupid virus showed up and disrupted our lives. We didn't get to meet for five months! Not funny!
But all that changed in mid-July when we finally got together again. There were only three of us, but it was still so great to have a little bit of normal back. And even better, we did a 2-day, Friday and Saturday. Woo hoo!
They call themselves quilters, but, really, they are artists! During the couple of weeks before, I had been hustling to get the August articles on color written. So I was already all pumped up with a head full of thoughts about pencils and color. Getting to spend a couple of days with whirring machines and colorful fabrics was like icing on the cake!
They are so kind to me, letting me talk pencils and art, and showing them all my crazy drawings that get published on my website. And bouncing ideas off of them for articles and blogs I'm planning.
Then the tables get turned and I get to listen to them when they talk quilting and fabric, and swap patterns and get ideas from each other. There's not much in this world I enjoy more than hearing people talk about what they are really passionate about!
Normally at the Gathering, I work on graphics for upcoming Homepages and articles for the website, but I've been working on a special gift for a friend. The finished piece will hang in a bedroom where one of her quilts will be on the bed. I'm adjusting the colors a bit to coordinate with the fabric.
It's an old cereal advertisement from the early 1900's. It pictures a little girl headed off to school with her lunch basket, and her saint bernard dog walking beside her, carrying her book bag. In the background is her mom, waving goodbye to her from behind a white picket fence. So sweet!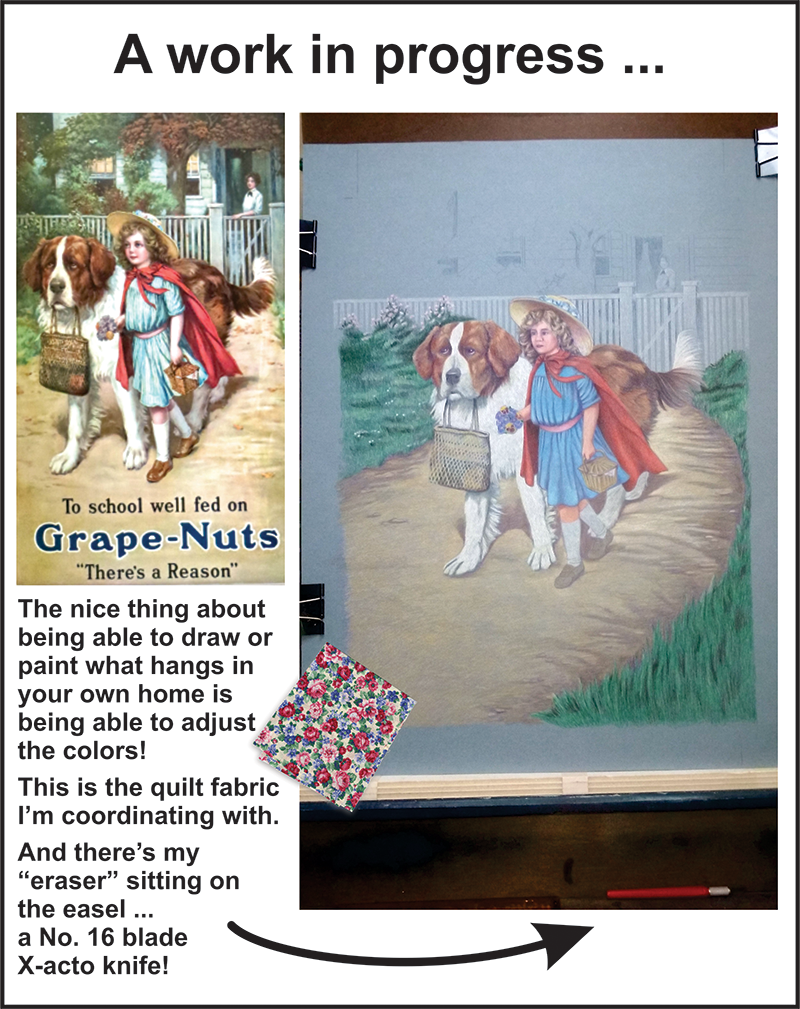 I'm doing it like I used to do the portraits, on a full sheet of colored drawing paper. We picked out a nice, soft blue paper.
The dog was already finished before the weekend, and, boy, does he pop with all of his warm golden tones and white on that cool blue paper! That's one of those heart-pounding moments I described in the Color 101 article! I love my pencils!
I had also completed the girl's dress. I had started on her face at my last drawing session, but I wasn't happy with it. Her mouth was too large and too low on her face. She didn't look sweet and perky. She looked like a smart-mouthed brat! Not acceptable!
I've kept putting off going back to it, because I wasn't quite sure what to do with it ... but the moment of truth had arrived. I either needed to fix it or start over. And I didn't want to start over, because that dog was spot on!
These are the thorns and thistles in an artist's life! But, like I've mentioned in articles and blogs before ... it's not about never messing up ... it's knowing what to do when you do mess up!
So I whipped out my secret weapon ... it's my Number 16 X-acto knife blade!
The Number 16 blade and I go way back ... we met in my paste-up days and hit it off right off the bat! The short flat blade was perfect for grabbing, maneuvering, and lining up lines of type on paste-up boards, as well as cutting.
Paste-up boards went the way of the dodo bird when computers came along. But my old friend still hung around for art projects and just general use around the house. Through the years, I've always kept a box of 100 Number 16 blades close at hand. And I just said that like I'm always buying boxes of blades ... the last box I bought was purchased in the late 80's from Sam Flax in Atlanta, and it's still almost full!
But here's another tip for all you colored pencil enthusiasts ... that Number 16 blade is the perfect eraser for colored pencil!
Because they are wax, Prismacolors don't erase with standard erasers. You'll just get a nasty smear if you try that.
But the pigment from these pencils doesn't saturate the paper like watercolor, or stain like charcoal might. Unless you pressed hard when applying it – like in a burnishing technique – the pigment sits on top of the paper. That means that if you're very careful, you can gently scrape it off the surface. Even if it was burnished and pressed hard into the paper, you can still sometimes scrape just a tiny bit more, getting down just below the surface. But this is like delicate surgery ... so be careful! And don't try this on colored paper if the paper color doesn't so go all the way through.
Luckily for me, the work I had done on her face was approached very cautiously, so the few layers I had were light. And it took a few tries, and some more scraping, before I finally got what I wanted.
Then I did her hair ... and being all excited because the "hard part" was done, I got all cocky and confident just took off drawing! And screwed that up, too!
Then came more scraping, grumbling, praying and gnashing of teeth! Colored pencil is not for the faint of heart!
So I spent 2 full days, scraping more than coloring, about 20 square inches of paper! This is why artists DRINK!!!
Fortunately, I don't drink ... but I can't say I've survived unscathed ...
Come back next week and you'll find out the real reason I'm like I am ...