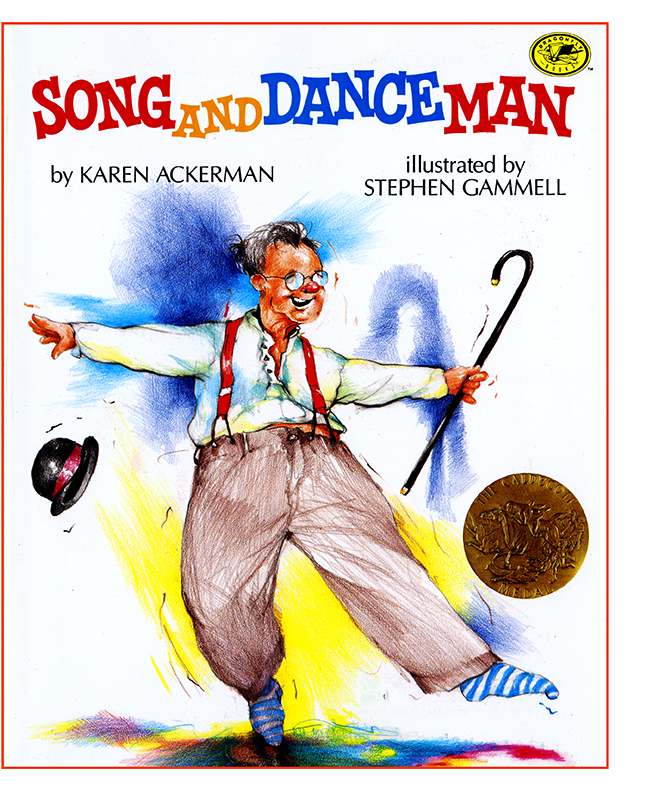 Your waiting years can sometimes last a long, long time ... I suppose it was the early 2000's when life finally handed me my next two really big surprises ...
Throughout my waiting years – while I wasn't illustrating books – I was always drawing or painting something. Mostly I worked in pen and ink and watercolor, and wildlife themes. At the various print shops I worked in over the years, I would have opportunities to draw for clients and printed materials. Occasionally I'd take a class at a local craft store or community college. And I've mentored a few teens who would come and draw with me after school. My waiting years were not idle years!
I visited the local library a lot in those days ... usually looking for reference material. Always I'd make a stop by the children's books. To this day, I honestly have no clue what the appeal was ... I never even had children of my own. I can't point to a reason, or tell whatever prompted the interest ... but like the Chaplin films, I was just simply drawn to these books like a moth to a flame.
Then one magical day, my life as an artist changed forever ... while browsing through the children's books, I discovered a treasure. The title was Song and Dance Man by Karen Ackerman. It was illustrated by Stephen Gammell, who, not surprisingly, won the 1989 Caldecott Medal for the illustrations in Ms. Ackerman's book.
If as a kid, you've ever read the original Alvin Schwartz's Scary Stories to Tell in the Dark books, you're familiar with Mr. Gammell's work even if you don't remember his name. The macabre pencil drawings in those books are the delicious kind of scary that kids love.
But what I loved were the energetic, colorful drawings in Song and Dance Man! I always prefered drawing over painting, but hadn't worked with colored pencil much. As a kid learning to draw, I only had used those nasty, hard lead things that didn't make much color. If you pressed too hard on your paper trying to get color, you'd end up with a hole!
So how in the world did he make that gorgeous art with colored pencil? I went searching for answers ...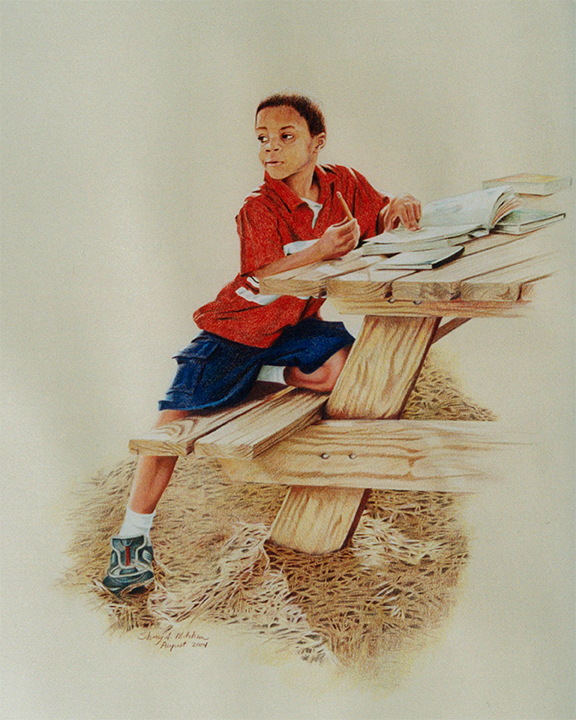 I don't know if I bought the book first and then got the Prismacolors, or if the Prismacolors came first and then I found the book that taught me how to use them ... but however it happened, I ended up with a set of Prismacolors and Ann Kullberg's book, Colored Pencil Portraits Step by Step
That book was awesome! I've since purchased several other colored pencil books, but Ann Kullberg's book is the best by far. I learned how to work with the wax-based Prismacolors ... how to blend them, how to mix colors, how to render textures and the values for shading light and dark areas.
I began doing colored pencil portraits of children. But I didn't want to do formal portraits, where every hair is in place and the subject is all spit shined in their Sunday best. I wanted portraits that looked like the subject was "captured" in a moment in a day in their life. I liked to think that the child would grow up, have children of their own – grandchildren, even – and there would be this captured moment that showed exactly what their parent's or grandparent's life was like as a child. I wanted each portrait to tell a bit of their story ...
Was this a precursor to book illustration? Perhaps. But I still had much to learn, and there was more road to go down before I'd get to do my first book in 2009. And some more dues to pay ...
The waiting years were winding down ... but not before experiencing a crushing disaster ... see you next week ...