One of my favorite Bible passages is Job 28. It's actually a passage about wisdom. The last half of the chapter states that quite explicitly ... the elusiveness of wisdom, who can find it, where can it be found, how priceless and valuable it is, how difficult the search for it can be.
The first half of the chapter is a metaphor leading up to that, which talks about how man cuts shafts "far from where people dwell ... in places forgotten by the foot of man" and how he searches and "tunnels through the rock ... and brings hidden things to light." Precious and valuable things from the earth, like sapphires and nuggets of gold.
Now if you really want to understand how difficult the search for wisdom can be – and how accurate a metaphor that is – go ask a rock hound about their search for that elusive specimen!
I married a rock hound. Not much of a rock hound myself, but when there's a dig or a show or a museum to go visit, count me in! Because of all the people that you would ever like to meet on this earth, rock hounds should be at the very top of the list! Rock hounds are absolutely the nicest and – dare I say it – the most down-to-earth folks you will ever meet. Sorry about the corniness ... I just don't know of any better way to put it! You simply cannot be a pretentious soul if you are willing to go out into the elements, risking life and limb to spend hours and hours sitting in mud and dirt, in cold and heat, digging for that one elusive crystal or specimen or fossil that will make your collection and your life complete. It is impossible.
Rock hounds break through all the barriers known to humankind. They are rich, poor, black, white, guys, gals, artsy, crafty, nerdy, emotional, logical, young, old, educated, simple, professional, blue collar, students, scientists, housewives, hobbyists, curators, musicians, truck drivers ... anybody can be a rock hound!
Some of them collect for a hobby, like jewelry making or creating art like mosaics or carving. Some collect crystal specimens. Some are geologists, studying earth history and minerals. Some rock hounds love collecting fossils. Did you know you can go into the mountains of north Georgia and collect fossilized sea shells and marine creatures?! Or go to Wyoming or Montana and maybe dig up a T-Rex!
Some are spelunkers, exploring caves – sometimes for days at a time and camping inside. Not for the claustrophobic or the faint of heart! My husband tells a wild tale about being inside an Alabama cave for a weekend trip, in very tight quarters, when the NASA folks in Huntsville decided to have a rocket launch! Try cave exploring when the ground surrounding you is trembling! Yikes! In my article The Loneliest Pencil I mentioned about there being very few instances of seeing absolute black in nature. That can happen deep inside a cave. Turn off the lights and hold your hand in front of your face. You will feel the heat from your hand, but you won't be able to see it.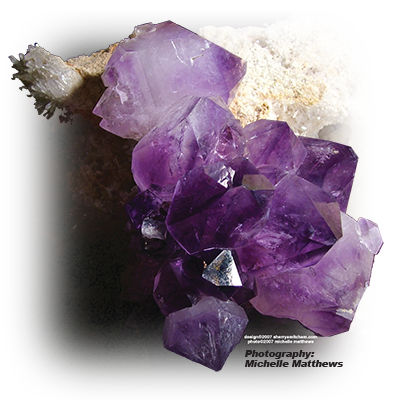 Some rock hounds travel the globe for particular specimens and minerals that are only found in limited areas. But you don't have to travel far to collect something beautiful. In Wilkes County, Georgia, at Jackson's Crossroads Amethyst Mine (JXR) you can find beautiful amethyst. In the photo at right is the "Georgia Belle" a specimen my husband found at JXR. You can see it in real life ... it's on display at the Tellus Museum in Cartesville, Georgia.
But if you really want to meet and mingle with real rock hounds, and do some rock hounding of your own, go visit the Hogg Mine in Lagrange, Georgia.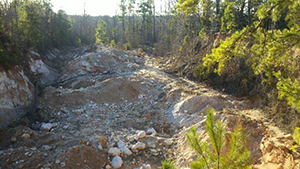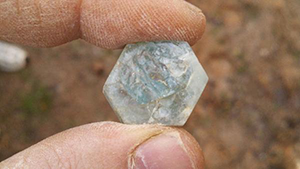 You will find quartz crystals, aquamarine, rose quartz, and rutile. Don't go alone, take the whole family! It's great for kids! Check out the website for dig dates, times and details. But basically, it's a Saturday thing, $35 per adult, kids 16 and under get in free. Bring some heavy duty 5-gallon paint buckets, work gloves and digging tools. Whatever you dig/find you keep. You can bring your own food and drinks, but there is usually someone there cooking and selling burgers and hot dogs. And a retail shop where you can purchase specimens. Chris Painter is the owner/manager. Tell him Bill and Sherry referred you!
And this whole article ... did I ever once say the word "joy"?
Talk is cheap ...
Just go meet a rock hound and ask them to talk rocks ... you'll experience it so much better than I could ever describe it!