Do not adjust your television set, as the old Outer Limits television show used to say ...
We're interrupting your regularly scheduled blog for a brief important announcement ... a real life example of an issue I discussed in the Digital Color article: color shifts on digital equipment.
Sandy McClure is one of the authors of The Chipmunk Family Odyssey. The last run of these books was 9 years ago. This summer she's headed to a book trade show in New York and wanted to take the Chipmunk book and her 2 other titles, Things I Ponder and Jack and the Creekside Miracle along. She needed more Chipmunk books printed. She only needed a few – less than 20 books – and the Chipmunk book was coiled, so there was not a problem with the small quantity run.
She found a digital print shop near her that could accommodate her needs and we sent them the files. Like all good printers, they checked those first few pages off the press and noticed the slight color shift. There is a photo below in which you can see for yourself the slight color shift in the yellow background on the cover. Even the red on the book title looks a bit darker on my monitor on the newly printed page.
The original book cover on the left is laminated. When the newly printed page on the right gets laminated, the color shift will likely be even more pronounced, because lamination will enhance the color even more ... like putting a clear coat over an object that's been freshly painted.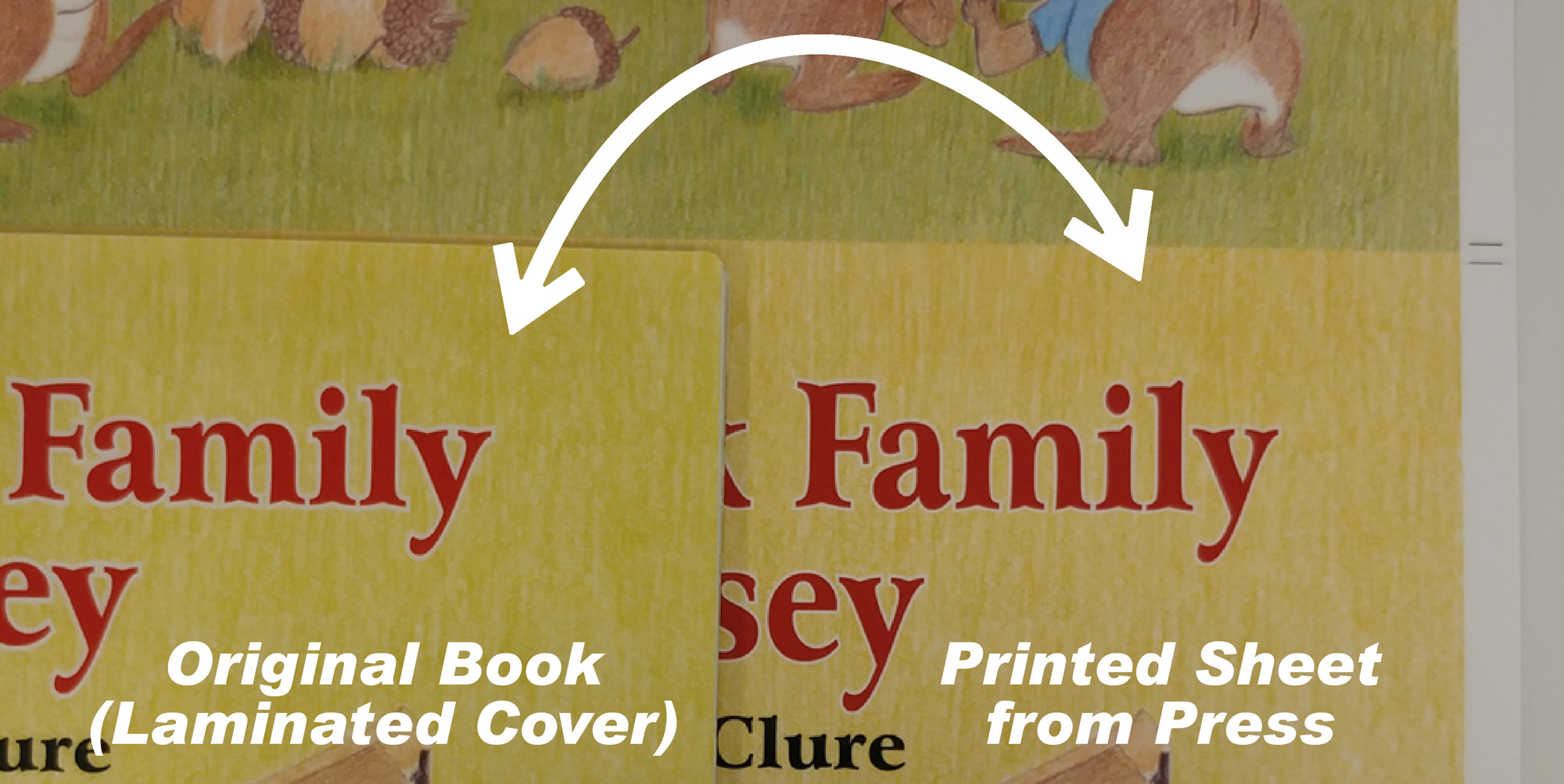 The truth is, unless the old and new books are laying side-by-side, and unless you are really examining them, this color shift probably won't even be noticed.
These shifts are not the fault of the files or the equipment or the print shop. It's just digital printing. If this same shop prints another 20 books next week – same files, same equipment, same paper – they will likely get yet another shade of yellow! Humidity, temperature, the operator smiling instead of frowning (just kidding!) will all affect the results.
The only way to get more consistent results is to go with offset. Try going into an offset shop and ask them to print 20 books! Right! ... that's going to happen for sure ... (it's really difficult to write sarcasm!)
So, I just wanted anyone interested to see this ... having the blog is nice, because I can show you things like this in real time when they pop up occasionally ...
---
So, I'll return control of your television set ... go have a happy and safe fourth of July!
Come back next Wednesday ... we're going to talk about your left and right leanings ...
And, YES! You have BOTH!!