In Parts 1 and 2 I told you all about my damaged eyes: how they came to be and how damaged eyes affect how I see the world. Simply reading those articles will likely cause you to have a bit of eye damage yourself.
Having damaged eyes is actually a lot of fun ... looking at your world and seeing all those basic shapes. And the more you see, the more you will be trying to see ... and the more you try to see, the more you will see ... until one day you will find that the damage is permanent. It can't be undone. But it's nothing to fret over, because all that fun grows exponentially and eventually it will just become a normal, happy way of life! You'll assume everybody sees the world this way. They do not, but YOU are one of the lucky and blessed chosen who DO!

For illustrators of children's books, having damaged eyes will hands down be the most valuable tool you'll have. But like any other muscle or skill they need to be developed so that they will really be useful. I want to show you how to develop your wonderful, damaged eyes.
Take a moment to review the four basic shapes. Then let's get out of the studio and ride around a bit. I'll teach you how to see and observe the world with your newly damaged eyes by showing you around my world in Fayetteville, Georgia.
Welcome to the South
Fayetteville is about 30 miles south of the Atlanta airport. Our house sits just in the county, about a mile from city limits. When we moved here over three decades ago, we mostly had two lane country roads, lots of trees, cow pastures and undeveloped areas.
Today, most of those roads are four lanes, and after 3 decades of adding houses, stores, businesses, shopping centers and 5643 traffic lights – yes, I counted them – rides in the car look more like this: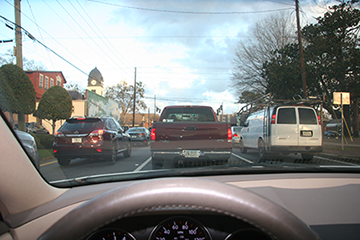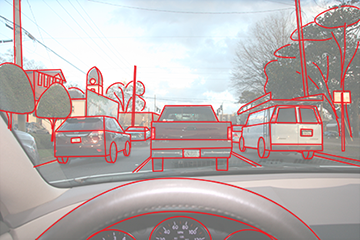 Ah, progress!
In the center of town sits our courthouse. Built in 1825, it is the oldest in-use courthouse in the state of Georgia. Later I'll tell you a story about the courthouse involving a fire and a not-so-smart criminal. If you'd like to see a short video of the courthouse, click here.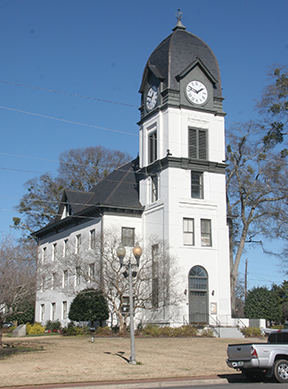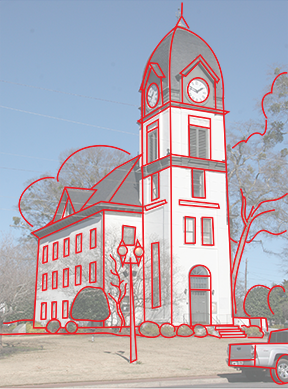 The courthouse was once used exclusively for government offices. Today it's a tourist and information center. Throughout the year the property is used for our annual art show, concerts, food and beer-tasting events, pumpkin-carving displays at Halloween, etc.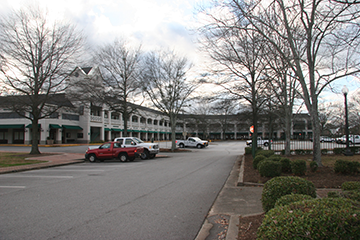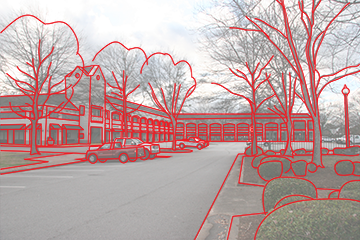 In the 90's a developer came to town with the bright idea of building a nice complex of office condos that sits across the street diagonally from the courthouse. For whatever reason they didn't sell and the complex sat empty for a long time until finally the Fayette county government offices moved in. This is our municipal center now where we go to get auto tags, building permits, pay property taxes, vote ... all that necessary, important life stuff.
Speaking of shows and concerts, a block or two down and around the corner from the courthouse, near the high school, sits our amphitheater. I'm writing this in January, so it's all closed up now. But this is the spot for warm summer weekend nights. Bring a picnic dinner and get ready to sing along. Especially if you're an oldies fan!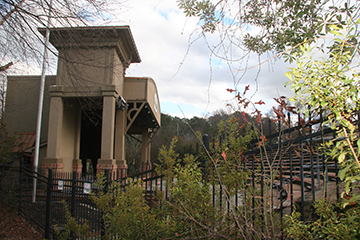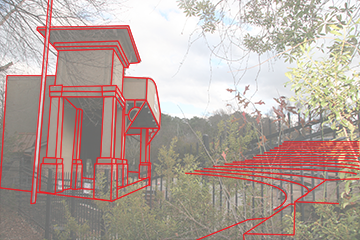 Gunslingers and Blockbusters
On the way down to the amphitheater, you'll pass a Fayetteville treasure and a piece of history: the Holliday-Dorsey-Fife House. Local resident Victoria Wilcox researched the house's history and connections between Margaret Mitchell, author of Gone With The Wind, and the infamous gunslinger, Doc Holliday. Ms. Wilcox started a non-profit organization, The Holliday House Association, and she and members sponsored fundraising events and worked on restorations for several years. Eventually the Downtown Development Authority purchased the property.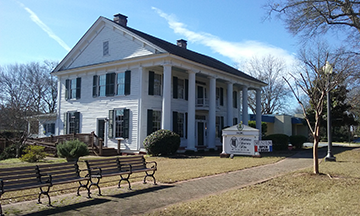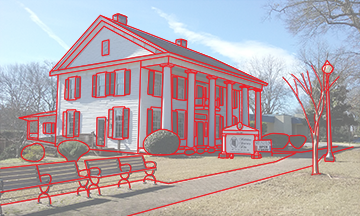 If you'd like an interesting read to learn more about Doc, visit Ms. Wilcox's website. She has wonderful articles and has written a trilogy – The Saga of Doc Holliday.
I thought it would be a fun and interesting place to do some observing with our damaged eyes ... and a shout out and a hearty "Thank you!" to Tom and Ashley at the museum for all their assistance and wealth of information that helped me write this article.
The first room on the tour highlights the families who have owned the house, the first – and most famous – being the Holliday family.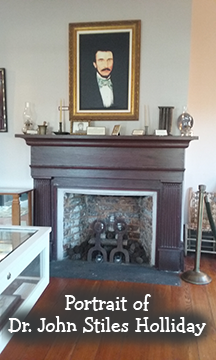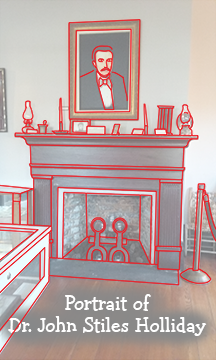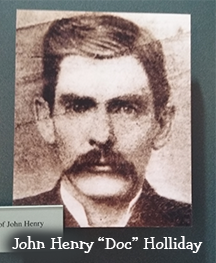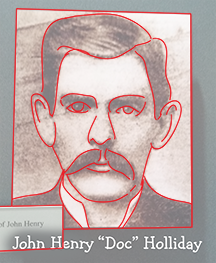 The house was built in the 1855 by Dr. John Stiles Holliday. Dr. Holliday grew up in Fayetteville and got his medical training at the Medical College of Georgia in Augusta. He ran his practice from a front room of the house and was Fayetteville's town doctor. He was an uncle to John Henry "Doc" Holliday, the famous gunslinger from the OK Corral.
Born in 1851, "Doc" Holliday lived in Griffin, a few miles south down Hwy. 92 from Fayetteville. Dr. John Stiles Holliday is credited with convincing his nephew to go into the dentistry profession. Doc was a very successful dentist, but contracted tuberculosis and suffered with severe coughing which forced him to give up dentistry. According to stories from his family, he went west because of his doctor's recommendation for a drier climate to help with the coughing, and partly because of his family's disapproval of him being in love with his first cousin, Mattie. But these are unconfirmed facts, and some sources will dispute them.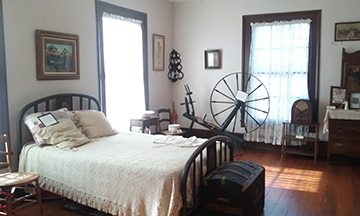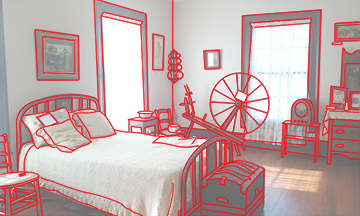 For all you movie buffs, the next room in the tour is the Gone With The Wind room. Margaret Mitchell was a second cousin by marriage to Doc Holiday. She was the great granddaughter of Phillip Fitzgerald who was the uncle of Mary Anne Fitzgerald, who married Robert Kennedy Holliday, Doc's uncle. The Fitzgerald family owned a cotton farm in Jonesboro that was the inspiration for Tara in Gone With The Wind and there's no doubt the Fitzgerald family provided inspiration and lots of source material for the O'Hara family in the book. When the Holliday family disapproved of Doc's romantic interest in his cousin, Mattie – again, this relationship is pure speculation based on family stories – Doc left for Texas and years later Mattie joined a convent and became a nun. She took the name Sister Mary Melanie, becoming the inspiration and namesake for the character Melanie in the book and subsequent movie. Let's see ... Doc and Mattie ... Ashley and Melanie ... hmm ... here's some free advice: if there are authors in your family, you really should behave or you might find yourself in a novel! And if the stories about Doc and Mattie's relationship aren't true ... well, I suppose authors sometimes need to embellish a bit to get a more colorful story!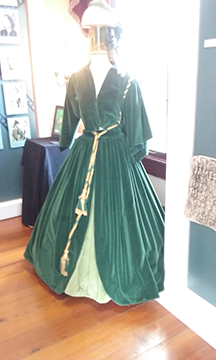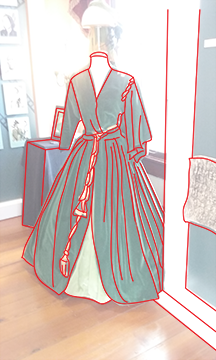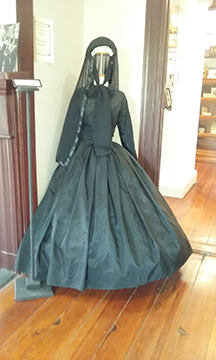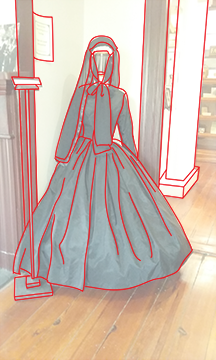 My personal favorite artifacts in this room are the dresses Vivien Leigh wore in the movie: the black widow "weeds" and the emerald green dress she made from the draperies. And I know you've seen it, but you can never see it enough … Google Went With The Wind to see the Carol Burnett spoof of the drapery dress scene.
A Classic Dumb Criminal Story
Upstairs at the time of my visit was a special exhibit honoring Fayette County Firefighters and Police Officers. And this piece of melted clock from the courthouse fire in 1982. You can read the whole fact-filled account from the archives of our local paper, The Citizen. Here's my condensed and somewhat accurate version ...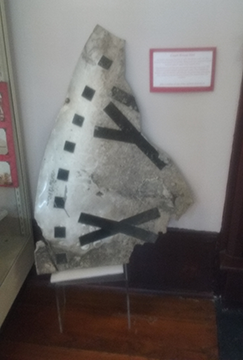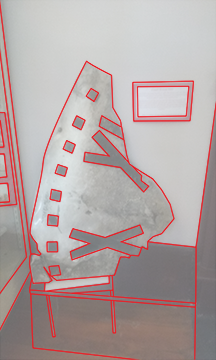 A Monday morning trial was scheduled at the courthouse in April 1982 for a burglar, Charles Edward Harris. Harris, trying to come up with a way to wiggle out of the trial, decided that burning the place down would do the trick. I don't know if he thought he was destroying files and records, or just destroying the courtroom, but fire was his solution. He talked a friend into helping him and on Sunday night – Easter Sunday, no less – they broke into the courthouse and splashed the place with gasoline from two 5-gallon containers. Being the kind of friend we'd all like to have, Harris asked his friend to wait there inside the building while he went out to his car to get something. Harris left his buddy standing in the building, went out to his car to retrieve a homemade bomb, which he lit and tossed into the gas-soaked building. Some people think that he was hoping to speed away and when his friend's body was found, the authorities would assume the dead man was the arsonist.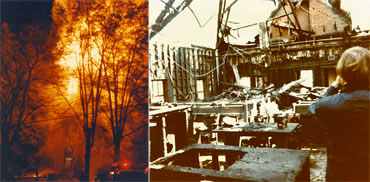 Alas, it was not to be ... the friend survived, spending a month in the burn unit at Grady Hospital in downtown Atlanta. Harris was found guilty of burglary and arson (no attempted murder?!), but only served 18 months of a 10 year sentence. The courthouse was renovated over the next year and was rededicated in July 1983.
And there's lots more going on at the Holliday-Dorsey-Fife Museum than these few tidbits. If you're ever in the vicinity, stop by for a visit!
And the Point Is...
Meanwhile, have I overwhelmed you with all these blocked in sketches? Everytime you go out your door are you supposed to be doing line drawings in your head? Not necessarily. So what's the point?
Just this: Art happens in your eyes.
To be a good writer you need to read, experience, and write.
To be a good artist you need to observe, experience. and draw.
If you see a photo of a stranger in a magazine or on the internet, they are just a face. That photo doesn't mean much and you have a neutral response to it, if any response at all. But then you get to meet them in person. You have a conversation. You learn their name. You've had an experience with them. Now when you see the photo you feel an emotional reponse to it. Maybe positive or negative, depending on if the experience was pleasant or unpleasant.
Artists look at a flower ... maybe it's pretty, they like the color, it makes them feel happy. But they'll take it a step further, and they'll study it ... they want to understand it's form: how do the petals fold around each other? How does light affect it? How does the color change in the deep shadows? They experience a flower.
They might be sitting in traffic waiting for the light to turn green and studying the cars around them. The shapes of the tail lights. The slope of the hood. The angle of a windshield. The perspective of the street: how does that building sitting two blocks down compare to the building sitting right here on this corner? How do the cars in the next block compare to the cars in the same lane in this block? It's moved from just sitting in traffic, to being an experience.
Perhaps instead of just seeing a dress in a museum, they are watching the actual movie. Watching Scarlett in her drapery dress. How does the dress respond when she moves? When she sits, bends or turns? Watching a movie has changed to experiencing a movie.
If you are an illustrator, this is the most important thing you need to learn to do. Because when you are experiencing your world, you are – perhaps subconsciously – having responses that get filed away in your head.
Then one afternoon you open up a manuscript and find that you'll need to draw a street scene. You will need to draw the same street with it's shops and store windows on several pages from several different points of view. And you'll have a character in some flowy garb ... perhaps a cape on a super hero. Or maybe it's your heroine in a lush gown like Scarlett's. She'll be appearing in it on almost every page in different positions, in different lighting.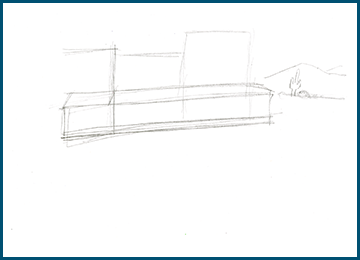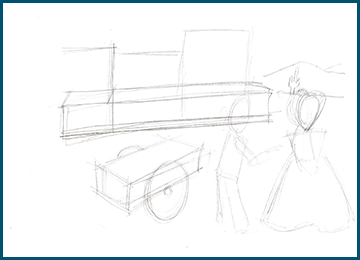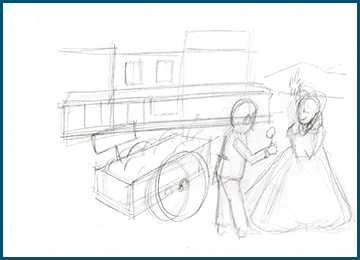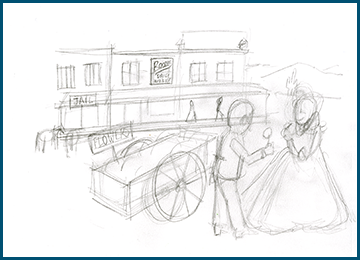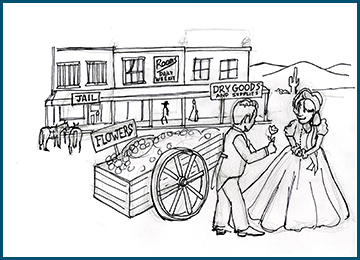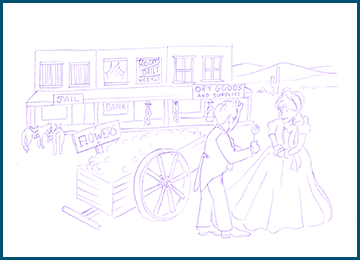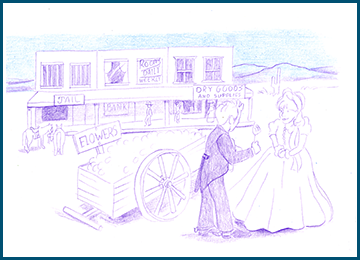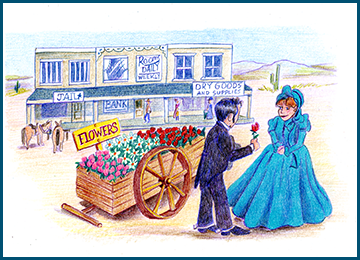 And all those filed away experiences and your responses to them will subconsciously flow to your hand and help you perform the task. But the energy from those live experiences will come out of your heart and mind and flow right through your hand and onto the paper. Those experiences will breathe life and energy into your art.
And yes, you will be looking up and accessing reference materials to provide details. But all the reference material in the world can't influence your art the way those stored-up experiences can! Experiences you may not even consciously remember!
And don't limit yourself to museums and city streets. Everywhere you go, have your eyes open and taking it all in. In classrooms and school yards. The dentist's office and the grocery store. Bus stations. Living rooms and kitchens. Stadiums. Church. On a boat in a lake. At the zoo.
Having a sketchbook with you is even better, but not practical everywhere and everyday. But your eyes are always with you! Keep them open and take in the world around you. Don't rush aimlessly through your world and your day ... slow down and experience them. It will be life-changing ... and not only in your art.
With that said, there is one last important aspect about these damaged eyes we need to cover ... the most important aspect ... see Part 4.
Till then, check out the February 2020 blogs for a deeper dive into this idea of experiencing the world.